Home
Your browser does not support the video tag.
Always one step ahead.
Join us!
15 years.
Thank you!
PrimeIT's pillar is the people who work there and the value we create for our customers.
More than 15 years of experience allow us to offer the best solutions, through a team of over 2200 Primers that represent us daily.
Sucess
The recipe is simple: we are passionate about people and technology. Our results are a reflection of this.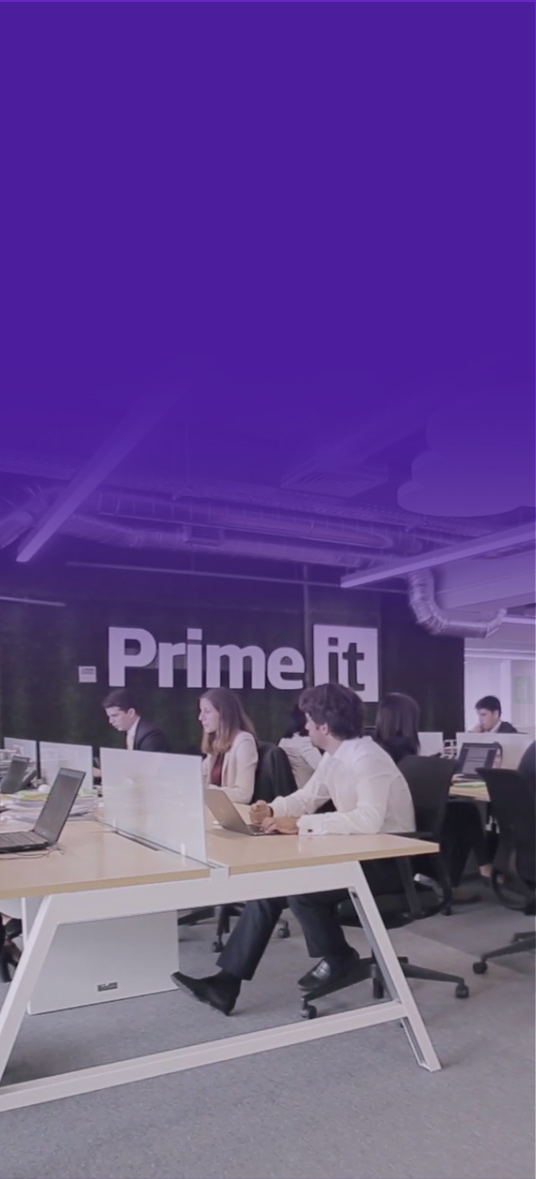 We set up a powerful team to build your project.
Our areas.
The experience acquired in the areas of activity in which we operate allows us to embrace
any challenge. Get to know more about what we do.
Young and dynamic company with consultants oriented to different areas and with interesting projects. This is the Prime project.

The spirit and mission that surrounds us today is what motivates us to become more and better tomorrow. We are PrimeIT and PrimeIT is us.
Avenida 5 de Outubro, nº 125, 9º
1050 - 052 Lisboa

Avenida de França, 20, 4º
4050-275 Porto

114 Rue Gallieni
92100 Boulogne Billancourt

34 rue Victor Hugo
69002 Lyon

1 Rue du Guesclin
44000 Nantes

6 rue Jean Roisin
59000 Lille

150 Avenue Georges Pompidou
13100 Aix-En-Provence

5 rue des Frères Bonie 33000 Bordeaux

Paseo de la Castellana, 135, 17º Planta
28046 MADRID

Coming soon

Coming Soon

Rue du Commerce 09, 5º
1204 Geneve

ul, Chorzowska 150, 40-101 Katowice

ul. Koszykowa 61, 00-667, Warszawa

wyspa Słodowa 7, 50-266 Wrocław

The Vista Business Centre
50 Salisbury Road, Hounslow
TW4 6JQ - Suite A3:25 - LONDON

Coming soon